Catherine Collins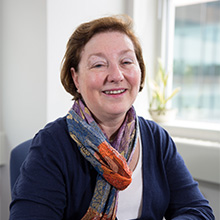 Catherine Collins
Associate Director of GWIPP
---
Contact:
Office Phone:
(202) 994-5170
805 21st Street NW, Office 614
Washington DC 20052
Dr. Catherine Collins (Cathy) is currently the project manager for the Significant Features of the Property Tax. The purposes of this project are provision of scholarly research on the property tax, definition of the parameters of the property tax in all fifty states plus the District, and maintaining a publicly available data set regarding those parameters. Her responsibilities include managing GWIPP research assistants and their data collection, research on specific topics related to the property tax, as well as collaborating with Joan Youngman, Semida Munteanu, and Sally Powers of Lincoln Institute of Land Policy.
Cathy comes to GWIPP with an extensive background in public finance and tax policy, having worked both in the public and private sectors.  She has also held a teaching position at John Jay College of Criminal Justice, City University of New York, in the School of Public Management.  
Dr. Collins holds a Ph.D. and MPA in Public Administration and Public Finance from the Maxwell School, Syracuse University. 
Prior to coming to GW, Catherine worked in the private sector in the area of municipal finance.  She headed up the risk group for municipal debt in the New York office of Bayerische Landesbank, a German regional bank.  She gained her municipal credit experience at Moody's Investors Service, evaluating local government debt both for U.S. and non-U.S. issuers, traveling extensively throughout Canada, Australia and parts of Asia.  Her interest in local finance evolved after working for nearly a decade on tax policy for the City of New York, in various capacities in the Office of Management and Budget, Department of Finance, and the Office of Business Development.
---
April 06, 2021
Property Tax Trends 2019 and 2020
April 28, 2020
Vox Populi: Voters Weigh in on School Finance and Property Taxes
January 28, 2019
Property Tax Developments, 2017-2018
September 24, 2018
Property Tax Year in Review 2016
June 05, 2017
Real Estate Transfer Taxes: Widely Used, Little Conformity
October 19, 2015
Mortgage and Transfer Taxes Inch Up After Recession
October 05, 2015
Tax Management Weekly State Tax Report
January 09, 2015
Confluence of Aid, Relief, Limits, and Local Efforts: An Overview School Financing in New York
October 01, 2014
Major Property Tax Developments in 2013
May 05, 2014
Property Tax Incentives for Renewable Energy: Pervasive Yet Idiosyncratic
October 21, 2013
Assessment Limits and Changing Property Values
October 01, 2013
The Property Tax Base and The Great Recession
August 12, 2013
Special Property Tax Treatment For Historic Properties
July 15, 2013
2012 Property Tax Ballot Measures
June 10, 2013
Homestead Exemptions and Credits: An Examination of an Approach for Tax Expenditure Budgeting
April 01, 2012
The Property Tax: Not Just Local
October 13, 2011