Sharon Lynch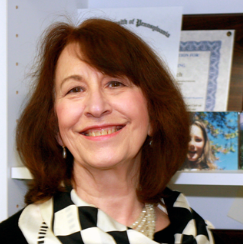 Sharon Lynch
Research Professor
---
Contact:
805 21st Street NW
Washington DC 20052
As a science educator and researcher, Dr. Lynch's work has always focused on the intersection of equity and excellence, exemplified by her book, Equity and Science Education Reform (2000). Her recent work on inclusive STEM high schools has drawn the attention of the White House policymakers and others interested in improving opportunity to learn in STEM fields.
Dr. Lynch seeks to understand how school-level education policies and innovations can help all students to succeed in science, technology, engineering, and mathematics (STEM), and increase the number of students underrepresented in STEM who pursue STEM college majors, jobs, and careers.
Opportunity Structures for Preparation and Inspiration (OSPrI). Lynch is the Principal Investigator (PI) for this NSF-funded project on inclusive STEM High Schools that includes school and student level case studies. The OSPrI website and new VIDEOS can be found at here.
iSTEM: The NSF-funded iSTEM study, directed by Barbara Means of SRI International, seeks to understand the impact of STEM high schools in three states. Lynch is a Co-PI on this study.
Together, these two studies seek to create a model for inclusive STEM-focused high schools and to understand if they are effective, sustainable and worthwhile as a policy initiative. Concentrating on schools that recruit underrepresented minority students, they also explore how the STEM high schools can partner with businesses and industry and institutions of higher education to boost success in STEM careers for underrepresented students and stimulate local economies.
SCALE-uP: This NSF-funded research program studied the effectiveness middle school science curriculum materials and diverse learners as they scaled up in a large schools system. Lynch was the PI.
Dr. Lynch was recently appointed as a member of the editorial board of Science Education. She served as President-Elect, President, and Past-President (2011, 2012 and 2013 respectively) of the National Association for Research in Science Teaching (NARST), and served as a Board member in prior years. From 2008-2010 she was a Program Director for the Directorate of Education and Human Resources of the National Science Foundation.
Dr. Lynch has taught high school and middle school science. She has been a Fulbright Fellow in Poland and a NISE Fellow. She has taught masters level courses in science education and doctoral courses in curriculum and instruction at GWU's Graduate School of Education and Human Development.